5.8G Mini 150CH FPV Receiver UVC Video Downlink for OTG VR Android Phone RC Drone Quadcopter
5.8G Mini FPV Receiver UVC Video Downlink OTG VR Android Phone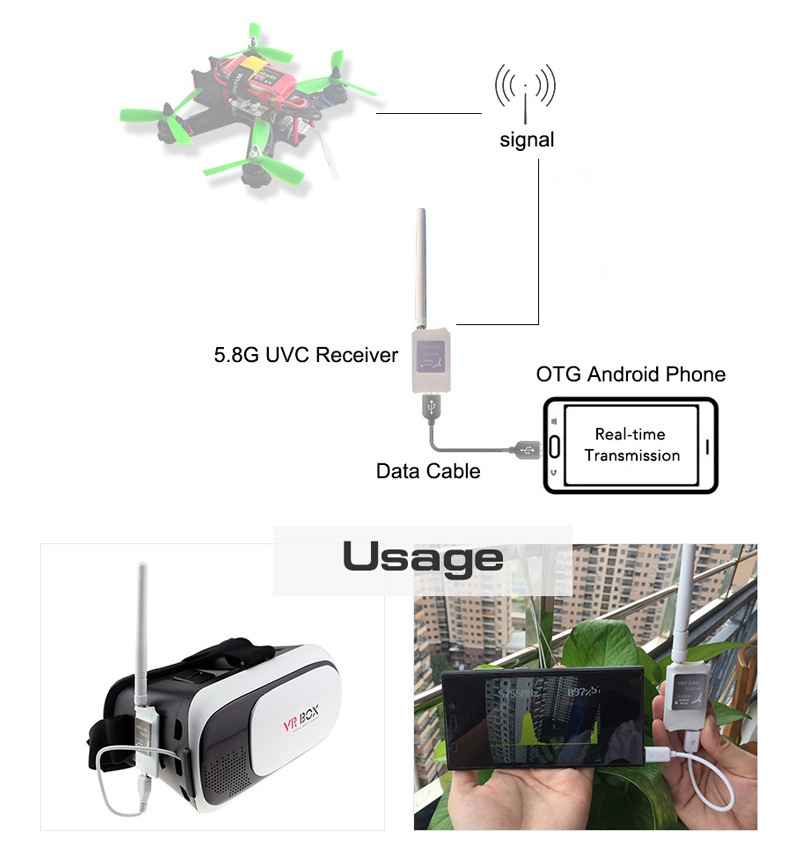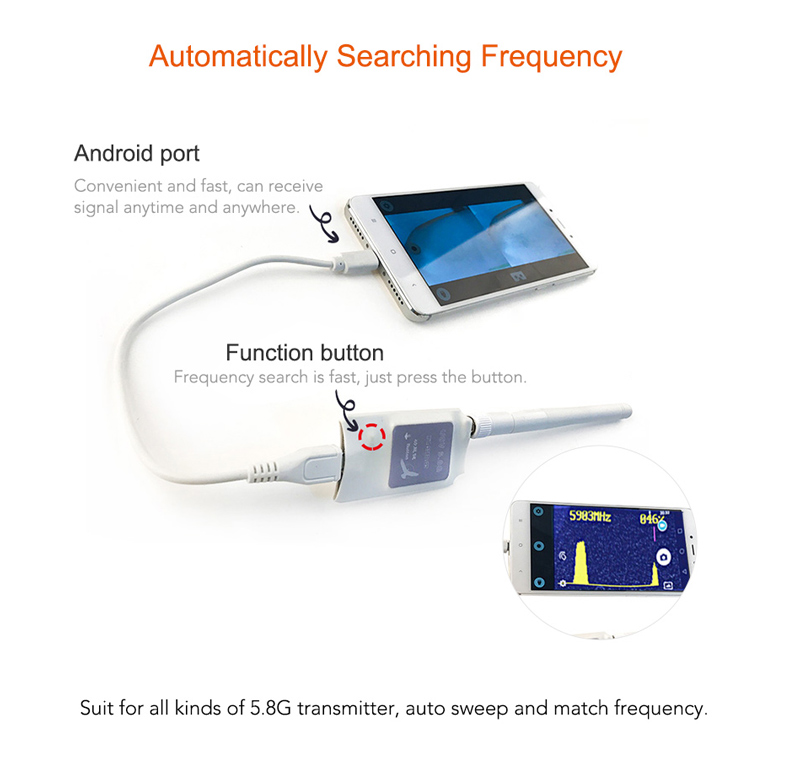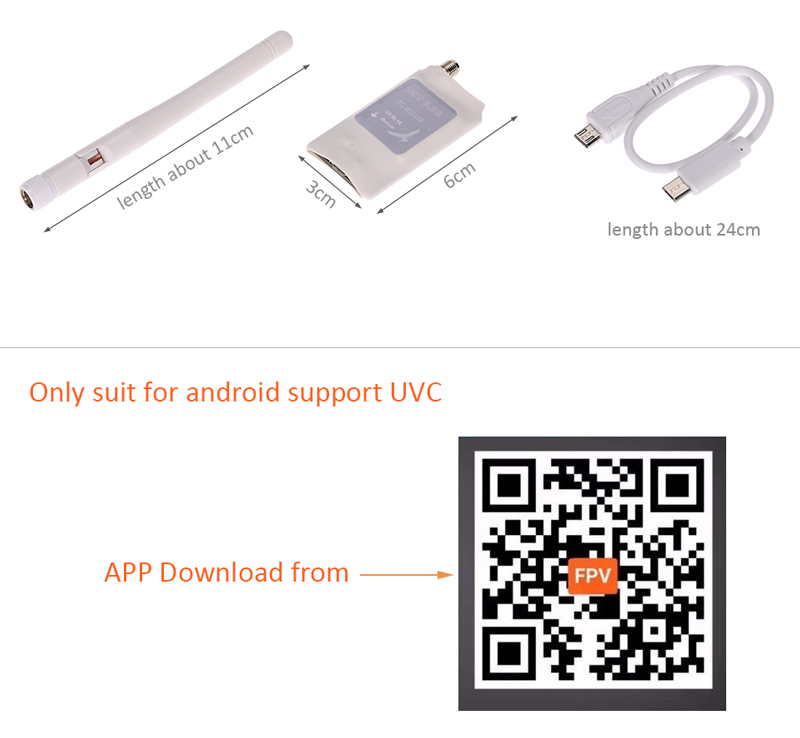 Features:
This is the newest version, add auto sweep and match frequency, graphical interface, snow screen 0.1s delay.
Sail model of affection and dedication, support any flight control, 150 frequency points + automatic sweep frequency + spectrum instrument graphical interface + snow display +…… more simple and beautiful appearance.
Original 150 point full frequency band scan 1500 times to calculate the intensity of RSSI, locking the most accurate frequency.
We increase the channel to 150, the accuracy is 2m, 2m is also the highest, 2m basic can lock ninety-five percent signal points, which is the highest accuracy of the chip.
With a high accuracy, then the abstract radio, this thing is the mobile spectrum instrument, you can detect the quality of the antenna, the transmitter to do horizontal comparison, the factory's electromagnetic environment testing, aircraft, etc.
Specifications:
Product name: 5.8G FPV receiver
Output signal: AV analog signal
Only suit for android support UVC
Package information:
Package size: 9 * 6.2 * 2cm / 3.5 * 2.4 * 0.78in
Package weight: 60g / 2.1oz
General box package
Package list:
1 * 5.8G FPV Receiver
1 * OTG Cable
Support listing:
It is 100% compatible with below phone model. Do not suggest to use other model, it maybe not compatible.
Samsung: S3 ( i9300, i9308) , S4 (I9500, I9507V, I9508, S5, S6, S6edge+,S7edge, Note3, Note4, Note5, A5100, A7000, A8000, on7, P600(tablet), N7100, N5100(tablet), Tab s2(tablet) 
OPPO: A31, A31C, A33, A51, A53, A5M, N3, Find7, R7005,R7007, 3007, R2017, R8000, R8205, R8207, R7SM, R7 Plus, R9 PL1us, R9 PL1ustm A 
VIVO: X3S, X3V, X31, X5V, X5MAX, X5S1, X510T, X6 X6A, X710 XSHOT, xPLAyer5
XIAOMI: MI3, MI4, MI 4C, MI 5, MI (tablet), Red MI3, Red MI note 3, MI4C 
HTC: E8, M7, M8, M9 
HUAWEI: Mate 8( NXT-AL10), C199, RIO-AL00 
LG: Gpro2, G3, Nexus5, L24, GPad8.3 
ZTE: ZTE U9180, ZTE N9180, V5Max 
MOTO: Xpro, nexus6, MOTO E, MOTO X, MZ617 
SONY: Z1, Z2, Z3, C3, SGP321(tablet) 
NUBIA: Z5S, Z7, Z7min, Z9min, Z9max 
ZENFONE: ZENFONE 2, ZENFONE 5, ZENFONE 6 
COOLPAD: 5952 
LENOVO: TB2-X30M 
LETV Phone: 1X800, X900 
MEIZU: X2 (Metal)
Note: 

If your phone model is not in this list, please do not buy!!!

Suitable for most of Mobile Phone in the Market. Thanks. 

Support for all 5.8G image transmission!!

Support AV output, audio output, there are reserved solder.